I was recently asked at Gatecrasher to write a blog post about one of my favourite ads, and this was my choice below.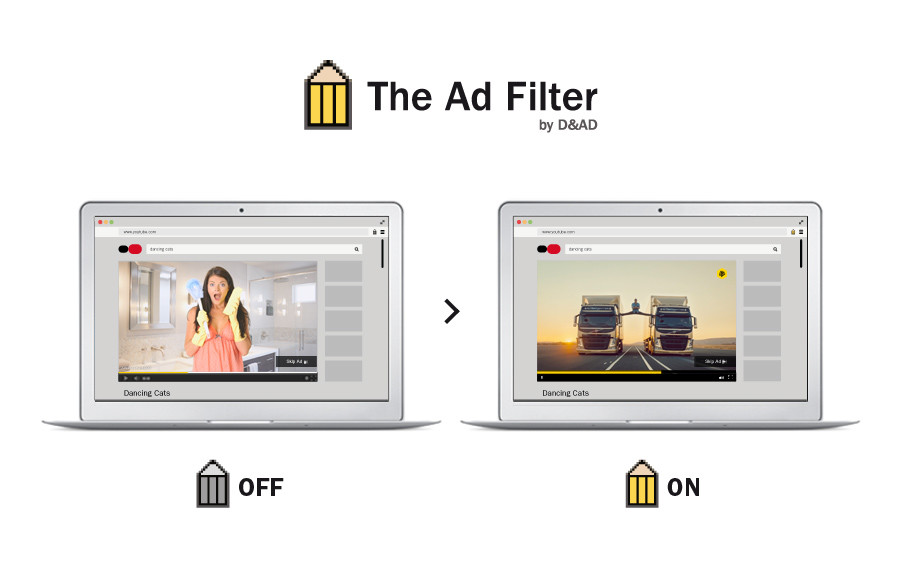 Asking an advertising creative to pick their favourite advertising example of all time is like asking a musician to pick their favourite song. With countless award-winning ads out there, the one I've chosen not only stands out, but it showcases other great ads that have come out in recent years.
So what is this ad? It's called The D&AD Ad Filter. It's an extension for Chrome and Firefox that blocks regular pre-roll ads and automatically replaces them with D&AD winners from past years.
No longer do you have to hover your mouse over the 5-second countdown and wait for the 'skip' button to appear. You can sit back and be entertained by a swearing bear or Jean-Claude Van Damme doing the splits on two moving trucks.
Why I love it:
Advertisers are always looking for new, creative ways to use YouTube, social media platforms, and other online advertising mediums. Lately we've started to see a rise in brands experimenting with the unavoidable YouTube 'skip' button, but The Ad Filter feels fresh because you're too busy enjoying the award-winning creative content to even realise that it's an ad for D&AD.
It's a lovely way to showcase the standard of work that wins the top prizes at award shows. Plus, it makes you even hungrier to win an award for yourself. I wouldn't be surprised if it increased the number of submissions for the D&AD Awards. With this filter installed, you'll often be left wondering why the standard of pre-rolls is suddenly so high.
If it ran today
It only came out in 2015, but I hope that it keeps being updated to showcase new award-winning work every year. It would be great if they included D&AD student winners to help get them the exposure that they deserve.
Download and enjoy it yourself here